June 15, 2016
This year, both Somerset ES and East Silver Spring ES were awarded the RFKM School Food Improvement Award for their exemplary efforts in promoting wellness and nutrition during the 2015-2016 school year. Because both schools made such tremendous progress in school nutrition this year, our awards committee decided to recognize both with the award.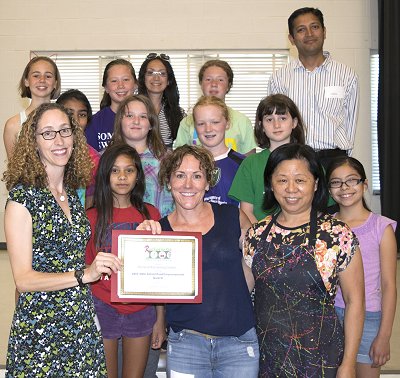 On June 13, 2016, RFKM presented Somerset ES with the School Nutrition Improvement Award. With the support of Principal Kelly Morris and the PTA, RFKM Representative Kerri Davis instituted a Nutrition and Wellness Committee this year at Somerset. The school hosted a FarmRai$er in which they raised over $2,500, much of which will be used for future health and wellness initiatives. Some of this money went to the school's first ever wellness week in which banners, contests, and assemblies promoted nutrition, fitness, and mindfulness. Further, the committee shared RFKM's healthy classroom material with teachers, leading to healthier snacks and rewards in class and limiting birthday celebrations to once per month.

Additionally, in cooperation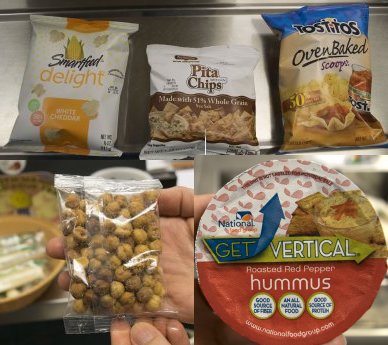 with the cafeteria manager, Somerset ES removed unhealthy 'a la carte' menu items, such as Doritos and Cheetos, and replaced them with healthier options, such as 51% whole grain pita chips, popcorn, hummus, cheese sticks and dried chickpeas. Also, for the first time, the a la carte menu was published and distributed to parents, making them aware of their children's food options in school. Finally, Somerset ES publishes healthy recipes and nutrition fun facts in their weekly newsletter.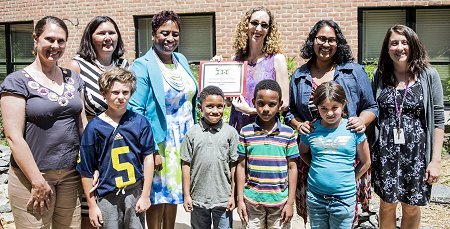 On June 14, 2016, RFKM presented East Silver Spring ES with the School Nutrition Improvement Award. East Silver Spring ES has made equally commendable efforts to promote health and wellness this year under the leadership of RFKM Representatives Karen Kali and Maggie Carey, with the support of Principal Adrienne Morrow, Assistant Principal Tara Strain and the PTA. The school held their first annual Wellness Night, which engaged students through smoothie making, Zumba, mindfulness training and a fruit tasting,

as well as provided information on nutrition and wellness through presentations and sample snack packs. Additionally, East Silver Spring ES emphasized the importance of drinking water by providing each student with a free reusable water bottle and requesting a water bottle filler station near the cafeteria. Finally, the PTA created a list of healthy snack options that was sent home with kindergarten students to encourage parents to donate these healthy snacks to the classroom. These accomplishments and many more are chronicled in a very impressive blog created by the Wellness Committee.

Both Somerset ES and East Silver Spring ES have not only taken tremendous strides in promoting nutrition and wellness this year, but also plan to continue on this path and are eager to implement new initiatives next year. Both schools are recognized for their success in improving the school food environment and serve as a model to other schools in MCPS.

The RFKM School Food Improvement Award recognizes school administrators and parents who have worked together to improve the school food environment. There are many different ways that your school may have exemplified such efforts. For example:
The presence of a wellness committee and/or school-based wellness policy
Improvements to a la carte items and/or vending choices
Healthy classroom snacks and in-school parties
Healthy PTA fundraisers and events
PTA signing the RFKM Healthy kids Pledge
Nutrition speakers, classes and assemblies
School garden
Calls for nominations go out in the spring of each school year to RFKM school representatives and through our listserv and a committee selects one winner each year.

"As a professional in public health, working to reduce obesity and preventable chronic illness among children by increasing access to healthy foods and physical activity in and out of school, I strongly support these recommendations. They are timely and on point. Our children spend many hours a day at school, some children eating the bulk of their meals at school, thus we have an obligation to be smart and responsible with regard to the meals and snacks we provide to them. Schools all across this country are taking steps to adopt a higher standard in school nutrition services. As we take pride in calling ourselves, and being recognized by others, as one of the greatest school districts in the country, we must see it fit to lead in every aspect of our children's education and well-being at school."
- One of the signers of the RFKM 2014 petition on school food.